Report on Jim's Trip to Russia
In December of 2007, Jim Burr made his third trip to Russia. He and his wife visited several cities and he gave many lectures. The most requested subject was the "the fallacy of astrology" which is very popular in Russia.

The people of Russia seem to be very educated. Conditions are much better than they were in the '90s but "what we saw in cities that are 1,000 kilometers south of Moscow were houses and buildings which looked like they hadn't been painted nor had any upkeep for seventy years. The side streets were in deplorable conditions with pot holes and they were very junky. The inside of the Russian houses were very clean and you take your shoes off at the door. My wife and I felt very comfortable. We stayed in five different homes and we were treated very well. The people were wonderful!"

"We were stopped by the police four times and the translator who was traveling with us said, "Don't speak English." If they know we are from the U.S. they will demand one-hundred dollar bills. I wouldn't want to travel there without Russian chauffeurs. In fact, we didn't go anywhere by ourselves."

Jim lectured nine times during the 12-day visit. Some of the cities visited were Armavir, Krasnodar, Mineralnye Vody ("Mineral Waters"), Nevinnomyssk, Novocherkassk, Rostov-na-Donu (Rostov on Don [River]), Starvropol and Taganrog. In one church there were three balconies full of people. "We sensed the awe in the hearts of the people as they contemplated the vast immensiy of the universe. They really appreciated an American coming all that distance to talk to them. I gave a Power Point presentation on 'The Hubble, The Bible, The Big Bang and Astrology'."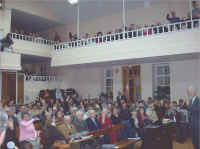 Select a picture for a larger version.

In one of the cities they had warm water for showers but the city shuts the water off at nigh o'clock and it doesn't come on again until six or so in the morning! "Every home where we stayed seemed to have electronic equipment—stereos, computers and televisions—yet their apartments are very small with extremely small kitchens. A person might ask, 'Why are there such run-down conditions when they have the greatest oil reserves in the world?' Things have improved, but I think it is the corruption in the government that keeps the people in poverty. The corruption seems to be getting worse."

In 1994, Jim never saw any gas stations. Gas was purchased from gas trucks along the road. This time there were a lot of new gas stations, but no rest rooms! There were only out houses with no place to sit, only an oval hole in the floor.

There were hundreds of kilometers of fertile-looking farmland, yet no farm houses. "When I asked, they said, "Oh, the government owns the land. A few people living in the cities work the farmland."